The Coastal Town of Tanji is One Step Closer to Europe, or Not… the story of Migrants In The Gambia. On June 10, 2021, the National Human Rights Commission (NHRC) embarked on a monitoring visit to the Tanji Immigration Post. The team was received on arrival by Officers of the immigration stationed in a newly established building funded by the Government of Spain. No sooner had the introduction ended than the team swung into action, observing the workplace environment of the Officers and detention facility, and reviewing the records.
Equipped with a structured monitoring plan with clear objectives nonetheless, it was clear this was no ordinary visit. Outside the officers' station, under an open hut-like area, several young men and women with carryon bags, suitcases and jackets sat dejectedly. At first glance, the team could tell that they were people on the move. Many of them spoke Mandinka but others spoke Fula and English Language. Aisha (real name withheld) was one of 4 women that were part of this group of 43 migrants of whom 6 were minors. In her mid-twenties she claimed she was traveling through Gambia to Spain, her final destination.
The group's journey which started from Sierra Leone, took them more than 10 days to reach Tanji and costed them a whooping US$3000 for some and US$1600 for others. "We bought an outboard motor engine (Yahama) at the request of the organisers to facilitate our voyage from Tanji', a male migrant lamented. When asked about the circumstances leading to their arrest and detention, Aisha explained that around 12 midnight, law enforcement officers raided their guest house in Gunjur. "Some of us were asleep at the time. Smoke and loud noises woke everyone up. Our passports, money, phones and other valuable were taken from us by the security agents. The event has left us with bruises" Aisha narrated, with teary eyes. "We are still in shock and we do not know what will happen to us now", she said in a somber note.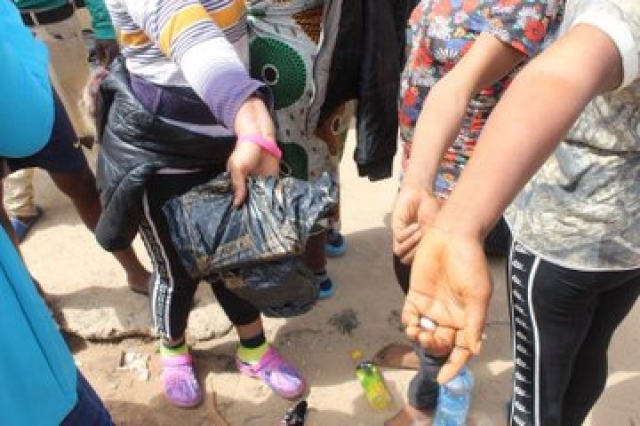 NHRC team visited the environment to assess the extent of these migrants' vulnerabilities and the conditions in which they are being held. The team found just one functional toilet that was being used by the officers and the detained migrants. They were cramped in the hut-like area which had no beds or beddings. Nightfall was welcomed with dread, although one of the Officers stated the room reserved for sewing officers' uniforms would normally be transformed into a sleeping area. The dangers to the female migrants was evident as no separate facility was available to them. The arrival of The Gambia Red Cross Society brought some relief to the migrants, but especially to the NHRC who were confident that the group will have some of their basic needs met such as food, water, sanitary needs of the young women and access to phones should they need to contact their families. For many of these migrants, Tanji is a transit point, where they meet their team leaders, sometimes referred to as 'smugglers', who facilitate their risky sea journey to Europe. The search for a 'better life' has led many young Gambians and non-Gambians on the dreadful journey through the Mediterranean Sea.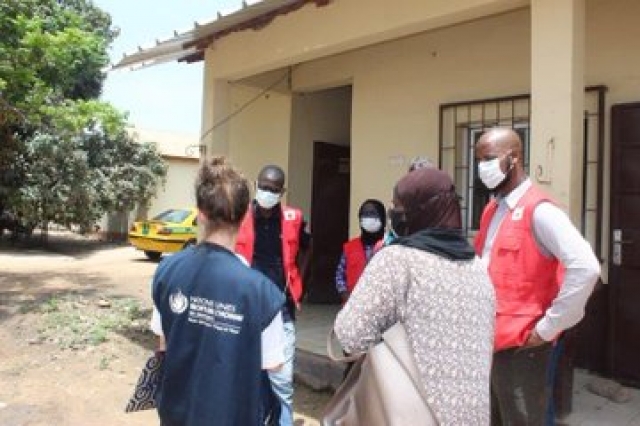 © NHRC Gambia 2021
The International Organisation of Migration (IOM) indicated that over 35,000 Gambians arrived in Europe by irregular means between 2014 and 2018. While many have been deported back to Gambia, several lost their lives, and others are waiting to return home voluntarily. The stories narrated by members of the community interviewed were no different. The village Council of Elders Chairman highlighted the impact of migration on the community. "Tanji is now overcrowded", noted Mr. Darboe. "Many young people travel from other parts of The Gambia, Guinea Conakry and Cassamance to Tanji where they wait to be ferried through the sea. Sometimes returnees come to live in Tanji where they can easily prepare to reattempt another journey to Europe", Mr. Darboe explained. The lucky ones are those who have made it to Europe alive. "Countless others have returned home but are either mentally ill or suffer from severe depression", lamented Mr Darboe. The challenges of irregular migration are multifaceted and affect different members of the community differently. Aisha and the 4 young ladies she is travelling with may find themselves in Europe, if the high seas are kind to them. At present, they cannot tell what fate awaits them. Going back to Sierra Leone may be the other option but that too comes with a heavy price: money, family stigma and an unsure future. Up to 47.3 percent of migrants are women (IOM, Gambia). NHRC is highly concerned about the safety and protection of migrants, especially women and children, while they transit through The Gambia. The Government does not only have a duty of care but also the primary obligation to respect and protect their fundamental human rights.